From holiday bows and tags to festive birthday paper, it seems like every time we turn around there is another occasion to celebrate with a gift, right?
If you're like me, wrapping includes more than the standard paper, there's bags and ribbons and bows–oh my! Keeping all those special little touches around the house can be a bit of a challenge. So today, I'm showing you nine clever ideas for organizing your gift wrapping essentials that anyone can do.
1. Grab-and-Go Bucket

Keep your supplies organized and portable in a cute bucket with this easy idea from Martha Stewart. Perfect for carting over to a friend's for an impromptu wrapping party!
2. Wall-mounted Pegboard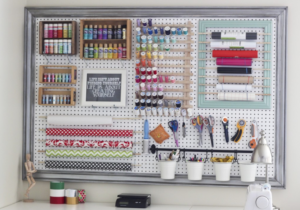 Hang a large pegboard to create an easily-viewable gift wrapping station. Honey Bear Lane makes great use of her small space, keeping all necessities within easy reach while also creating a pretty focal point for any craft room. You can even frame it for additional style!
3. Ribbon Organizing Towel Rack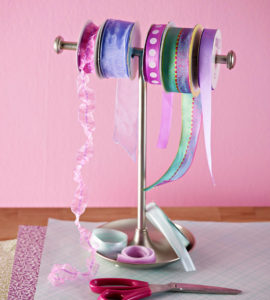 Here's another great idea from BHG that will make gift wrapping so much easier! A hand towel rack can help display and organize your ribbons as you top off every beautiful gift!
4. Hardware Store Hack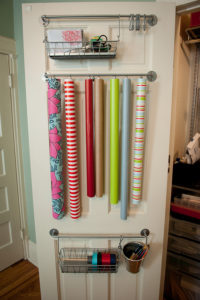 Create your very own behind-the-door organizer by using bits and pieces from your local hardware store. Brooklyn Limestone can walk you through their very own design!
5. Hooks and Dowels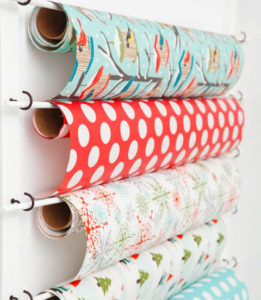 A few pairs of cup hooks and easy-to-find dowel rods can make hanging your wrapping paper so much easier. THe overall result is a tidier space with a professional look at the same time. Woman's Day gave me this inspiration and I absolutely love how easy it would be to just grab a piece, cut and wrap!
6. Shower Caddy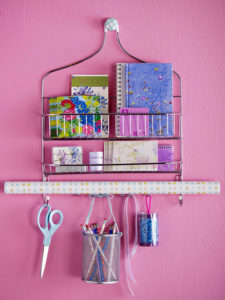 We love this one! BHG gave us this clever idea for organizing bits and pieces of your gift wrapping essentials. Grab a shower caddy, hang it on the wall and tidy everything up a bit! It's perfect for tags, scissors, pens, tape and pretty much all your little odds and ends.
7. Mason Jars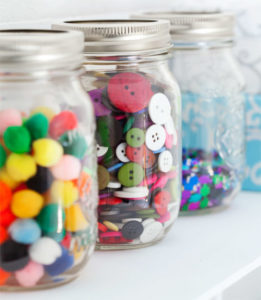 For some of your embellishments, buttons and pom poms for example, think about grabbing some Mason jars to keep them neat and tidy on the shelves. You'll also be able to see and find what you need more easily. Thanks Woman's Day!
8. Silverware Bins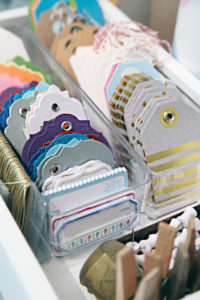 Utensil holders can do a lot for organizing around a craft room. In this case, IHeart Organizing used them to color code her gift tags for future presenting wrapping – and we love it!
9. Ribbon Basket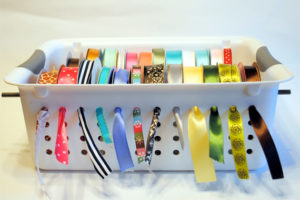 This is such a simple solution for keeping your ribbon organized, I'm embarrassed that I didn't think of it! House Logic came up with this great way to organize and see what ribbons you have, making it easier to finish your presents off in a pretty way.